Zombie Land Saga (ゾンビランドサガ Zonbirandosaga), is a Japanese supernatural comedy/musical animated series co-developed by MAPPA animation studio, Avex Pictures and Cygames gaming studio. It is written by Shigeru Murakoshi, directed by Munehisa Sakai, and with music composed by Yasuharu Takanashi.
The first season aired in Japan between October 4 and December 20, 2018. The second season aired between April 8 and June 24, 2021.
It was announced that the original anime from MAPPA studios and Avex production company, Zombie Land Saga, will feature a movie, which is already in development. Production details and its release date will be released shortly.
To reveal the news, a special video was broadcast during the concert, starring actors Hakuryu and Kunio Murai, who are big stars from Saga Prefecture.
Plot
In 2008, Sakura Minamoto, a high school student about to great her second year of high school, was abruptly killed by a truck on the morning she plans to submit an idol application. Ten years later, she woke up to find herself in a certain western-style mansion with no recollection of her previous life. A man named Kotaro Tatsumi told her that she was brought back as zombies for a local idol project called the "Zombie Land Saga Project" aiming to revitalize the dying Saga prefecture, along with 6 "legendary" girls from various eras of Japan's history: Saki Nikaido, Ai Mizuno, Junko Konno, Yugiri, Lily Hoshikawa and Tae Yamada.
Voice Cast
Main Cast
Major Supporting Cast
Supporting Cast
Minor Cast
Kiichi Momozaki by

Mamoru Miyano (Japanese)
Ricco Fajardo (English)

Shojiro Ito by

Koki Uchiyama (Japanese)
TBA (English)

Iron Frill (2008)
Episodes
Main article: Episode Guide
Development
Concept and Creation
About four years before the broadcast, Cygames' Nobuhiro Takenaka came up with the idea for a zombie idol anime because Rita's character, a zombie girl who appeared in "Kami no Bahamut GENESIS", was cute. The project was started by telling MAPPA that a dead person could do a drama in which she really lives like an idol. Before Murakoshi-san [the main writer] joined the project, the plan had simply started based on the concept of a series of "zombie idols".
At that time, he had nothing to do with Saga. This is how it started, but the project had not yet received the green light within the company [CyGames]. The CEO, [Koichi] Watanabe-san, is from Saga and had mentioned in past conversations that he wanted to make an anime about Saga.
So they had this "zombie idol" project that was not approved, and they also had the instructions to create an anime about Saga, so they tried to put everything together to see if the project was approved. And that's how the Zombie Land Saga project got started.
When the location search process began, they contacted the municipal government and asked if they could show them around.
Murakoshi-san was going on a reconnaissance trip to Saga, but from the start, they didn't seem to be surprised, they maintained a very businesslike atmosphere. Afterwards they seemed like they were a bit hesitant at first, but they decided that it could benefit the Prefecture and therefore they cooperated a lot from the beginning.
They explained: "We want to do this kind of scene, do you know of a good location for this?" and they gave them several ideas.[1]
Production
The title changed completely because they were trying to establish Saga as the location where the anime would take place. staff members visited Saga many times to get context of the location. Takenaka said, "Our president was involved in the location." At first, they were quite concerned about how to combine Saga prefecture with idols. So they went to Saga prefecture and felt that "the story we were thinking about coincides with Saga prefecture more than we expected. "The hardest thing was when they went to Jofuku Chojukan. People in the memorial hall started climbing mountains to get excited and come up with ideas." They said he had a pretty tough experience climbing the mountains[2]. "While traveling through Saga prefecture in search of locations, he moved away from the general concept of idols and changed the title to" Zombie Land Saga" eliminating much of the idol theme from the series.
For the most part, they worked with the Saga government in finding the locations, focusing on the script by Murakoshi-san. However, they were mainly advised on Saga's specialties, like their fame for "mikan" (mandarin oranges) and the like. Most of the locations were decided simply as part of the story.
For locations like "mocha cafe" from episode 4 or "Plaza 656" [mutsugoro hiroba], they only did internet searches for popular locations in Saga, found places that looked good, and added them to our scouting trip. However, the decisions were largely based on what was stated in the script.
Takenaka: If history dictated a certain location that might require filming permission, we would ask the prefectural staff for help and then organize our schedule so that on that day we could visit multiple locations at once. The government helped us with that kind of thing. [3]
Murakoshi, joined after the project had already started. One day he contacted [Manabu] Otsuka-san [CEO of] MAPPA and he asked him: "Hey, we're working on an" idol "anime. Are you interested?" "Sure, but I don't know much about idols or idol anime." and they assure that the strength of the project was to ignore the "definition" of what idols are. So they accept and join the project.[4]
The planning of this work was carried out in cooperation with the Saga Prefecture. A person in charge of the public relations hearing section at Saga said, "I really don't care about idol stories." The serious production committee of three companies, MAPPA, Avex Pictures and Cygames, 30 minutes × 12 episodes.
A great deal of information they got from the location on stage was also reflected. "It's information that we can't get ourselves. Even if the people in Saga watch, it's often a manic place, so much of the information in the anime was pulled directly from the people in Saga."
There was really almost nothing they wanted to include that in the end they couldn't. They used everything they could on the show and captured almost everything they had without having to compromise. As for what they couldn't use, it really was next to nothing.
Especially funny scenes. Scripts always tend to be a bit long, so while they fit well in terms of story, it is quite common to cut out jokes and joke scenes due to time constraints. But no important aspect of the story was left out.
One of the ideas for a comedy scene that they rejected was for the girls to play football against Saga's professional soccer team. It involved [zombie dog] Romero replacing the soccer ball at some point, and since he can move by himself, the girls could win the game like that. Realistically, it was one of those ideas that would be rejected. [5]
Setting
They had the general idea and the main points decided, so it was mainly about putting it all together in a neat story. Surprisingly, everyone had their own ideas and visions, so they all got together and shared their ideas (imagine just throwing away a toy box full of things) and got down to business examining them.
About two years from the time Murakoshi joined it. He was the last person to join the writing team, and by then everyone had a general idea of ​​the type of series they were doing, as well as things like the characters and the stories they wanted to include. Many things had already occurred to them.
Before Murakoshi-san joined, everyone had shared their ideas. Once he joined, they started researching idols. They interviewed many idols and heard what they had to say, which helped them structure the story well. They were very impressed with how dedicated and passionate everyone was about their art.[6]
MAPPA recalls in an interview with "The Animate Times" that it had the greatest difficulty in constructing the story. Talking to various set writers so far, but they have all respected George A. Romero and presented a good setting. Shigeru Murakoshi was appointed. because he thought that Shigeru Murakoshi, who had been involved in MAPPA's work, could do a good job and with comedy experience in series composition.
Since this work is about death, it was decided to form a group of idols who lived in different times to portray different opinions. Furthermore, the idea of ​​giving each member a kind of legend was also adopted.
There is a basic structure that most idol anime follow and without that, Zombie Land Saga could have been done. If that format was not used as a base, the series would have made sense to viewers. Everyone has a basic idea of ​​what idols are like, and they tried to change that. It was successful here because Japan also has a very strong idol culture.
Just as the series is based on rural locations, there are "local [regional] idols" all over Japan, but it doesn't work that way for rock bands. It's not something that would fit most Saga people. But "idols + zombies" fits very well, right? The finer nuances can be difficult to express abroad, especially if the idols have to be "cute." Adding zombies to the mix would probably be the last thing you want. But they deliberately decided to take the opposite approach. So for that reason, having idols was an essential aspect after all.[7]
Cygames said, "They were thinking of waking up one at a time," said the director of cygames, but in the end it was decided to wake up all of them at once and leave Tae unawakened. They also had a "Tae-chan Meeting" where they argued. what was [Yamada] Tae's true identity. They actually got to use some of those improvised ideas in season 2. Like when Tae is sent shopping for groceries.
It would actually be more difficult if the characters were similar in terms of personality. It works precisely because they're all unique, so they didn't have to change anyone once they defined their characters. In that sense, everything fell into place easily. All the girls are from different time periods, lived in different environments, and faced different circumstances. It's interesting because everyone in the group varies a lot. So it was not difficult to work with that. On the contrary, it was a lot of fun for the team.[8]
At the end of Season 1, there was a good balance between development and story elements that had yet to be explained. It was enough to get people excited and keep them in suspense, much like live action movies that leave room for sequels. The sense of accomplishment after finishing the first season was incredible for the team behind.
CGI production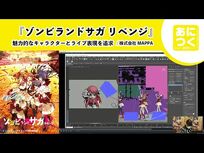 Ai Kuroiwa, the 3DCG animation director, talked about how they approached this point: "Before starting the sequel, we had to review the workflow and how to organize the audience. The objective of "Zombie Land Saga: Revenge" was twofold: to see how far we could go in terms of expression using the same models as in the previous project, and to use the knowledge of the previous project to raise the average quality of the scenes on stage. To achieve this, we have tried to avoid showing broken images as much as possible».[9]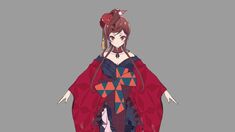 The first step was to create the line drawings and 3D character models based on them. In order to use the 3D model of the previous work and improve the expression, in this work the movement mechanism of the 3D model has been modified in many points, called "rig" (a structure of bones and digital controls is created within a geometry) .
First of all, for the parts called "oscillating", like the hair, the number of joints has been increased to be able to use the script "SpringMagic". For the dance scenes, in which flexibility is required, the arms have been reinforced to reduce unnatural movement. The skirt is also programmed with a "dash controller" to move along with the movement of the legs, reducing the time to correct the movement of the skirt.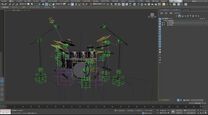 For Episode 12, they had to create the dance scene in 3D, so the background art was also created in 3DBG. For the 3DBG model used in episode 12, modeling work with "blender" started at an early stage in the background enterprise. Once the "art board" was completed, the 3D stage textures were created. Motion capture took motion into account to give character at the time of dance choreography and performance. However, it is not possible to perfectly reproduce the movements of the anime, so in the end the recorded data is retouched by the animators.
Once the 3D models, 3DBG, and motion capture are ready, it's time to start creating their screen. Once the storyboard is ready, it is used as the basis for deciding which parts should be CG and which parts should be drawn, based on the schedule. They considered it to be the most effective method. Motion capture is not only used to create CG animation, but is also provided to animators as a guide to the movements for the drawing.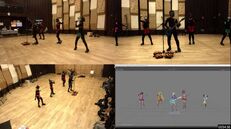 Miniature models and virtual cameras were used at the "CG meeting". The virtual camera (the movement of the screen within the three-dimensional stage) was used for discussions such as How do we show the big room live? The virtual camera was also used to communicate the director's vision to staff in a remote environment. After the CG meeting, it is time for the CG animators to start their work. The layout, the primary and the secondary are the three stages of the process. The "layout" is mainly used to decide the position of the camera. In the primary stage facial expressions, movements, poses and timing are fixed, and in the secondary stage the image is finished.
Character movements are created from motion capture. The motion capture is rough, so they have to change the angles of the arms to make them look prettier, and if the choreography hides the face, they have to adjust it to make it look better. In the elementary schools we take care of these things and we make the whole look good.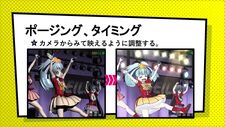 Of course, they did not negate all the gross motions of the motion capture, and there are cases where small gestures are left intact that are difficult to reproduce manually. The most important thing for the production team was the facial expressions of the characters. Due to the delicate movements created by motion capture, facial expressions had to be detailed as well, otherwise they would look too CG. They had to pay attention to these aspects to bring out the charm of the characters.
An important aspect of the expression was the pattern of "squinted". In this job we have added a narrow eye pattern close to the design. As the shape of the closed eyes is different from the narrow eyes designed 50% of the time, without this pattern it is not possible to draw well the average expression when closing the eyes or the expression of squinting when laughing.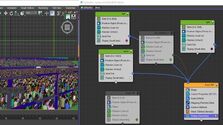 It's not just idols that grace the stage at live shows. The audience waving lanterns in their seats is also part of the show. However, in the twelfth episode of this play, they had planned to place about 30,000 people, and it is not realistic to work on each of them. So they created a more efficient and effective work environment, with more automation and more movement throughout the process. Rather than creating each audience model, they reduced the amount of data by preparing two types of models: one for close-ups and a simplified version for distant views. In the previous production, the spotlight colors had to be changed manually, but in this version they used a plug-in that assigns the colors randomly, so that the proportion of colors used can be adjusted to match the color of the image. of the character in the center.
Character development
Surprisingly, they managed to write the script while sticking to the original personalities of the characters. They made Sakura more motivated and energetic, but that change was made while interviewing idols for research. It could say that she became more like a main character.
Other than that, they all ended more or less the way they originally planned. They had a well-formed idea of ​​who they were and the voice actors worked within that framework.[10]
As the main character, it was a bit challenging planning how Sakura's personality was going to develop throughout the series. She took some time, and there was a bit of trial and error at first, but in the end, they managed to create a compelling character.
During the middle of production, they made a late decision to develop Sakura's character by adding a scene from the flashback. That choice was made midway. Originally, they weren't going to do it like this.
They put Yugiri's story aside during the first season because it was difficult for them to write it. They needed to decide things like the content and the mood of her flashbacks.
They had a general idea of ​​what they wanted to do, but found it difficult to fit it into the first season. In terms of time and plot direction, they just didn't have the space, so they delayed it until the second season. However, that gave them a lot more freedom as they were able to take our time and have a 2 episode flashback.
Lily was definitely not an easy character to create. Given the concept of Zombie Land Saga, they thought a lot about what she normally could and couldn't be tolerated in an idol anime, including zombies of course.
The nuance is hard to express, but one of the show's favorite lines is when Lily says "I'm not Masao!" I am Lily!" That line was actually a rewrite that they did during the recording sessions, but it feels like it perfectly encapsulates her character. They spent a lot of time thinking about her character and made sure there was a proper balance between comic and serious scenes.
In addition to the gender issue, Lily also died at a very young age, and that, of course, was difficult to address properly. But they wanted to make her a very strong person who stays positive whatever happens and lives life to the fullest… well, as "living" zombies it's a bit of a stretch, but you get the point.
They worked really hard to include scenes like Lily talking to her father, but at the same time, they didn't put too much emphasis on it. Since everyone is a zombie, nothing is holding them back, least of all gender. Be it someone like Tae or Lily, who was born as a child, but none of that matters to the other members of the group. They see further.
It is a difficult situation. One must be careful and considerate of this kind of thing, as otherwise it could become troublesome. Of course, the easiest option is to just avoid it altogether and not have to worry about a thing. But in the end, they relied on intuition, striking the right balance between fun and serious elements while wondering "will viewers understand what we are trying to convey?" It's not something you could know for sure. Sometimes they were sure that doing this or that would be okay, but they were still nervous about how things would turn out until the broadcast. Due to such concerns, they made many dialogue modifications during the recording sessions.
They did tests and decided to edit a lot of lines from episode 8. Fortunately the scene was well received by the fans, so everything went well. As the creators of the show, they didn't feel it was absolutely necessary to bring the issue of gender to a group of idols. But on the other hand, they wanted to defy convention and do what other idol series didn't. [11]
Art
In the design, the policy was to keep it cute and creepy, but not to turn into a moe, as there were strict rules against moe, and Kasumi Fukagawa was appointed as the character designer. In this work, all anime fans are represented in Franchouchou's audience members.
Music/sound
Yasuharu Takanashi was in charge of the music for this job. The director, Munehisa Sakai, hoped that Takanashi liked Death Metal and that it would be possible to balance the cute part with the rock part of the characters living a rock life. in an interview with Animate Times. Cygames' Nobuhiro Takenaka said, "Idol activities are at the center of the story, so linking stories and songs is the easiest thing to convey. In that sense, there are more messages behind the songs."
Promotion
In the promotion, the principle of secrecy for the content of the work was fully implemented. From the production announcement to the start of the main broadcast, the story information was hidden, except for the catchphrase "New zombie sensation anime." The promo video also appeared to be a real zombie horror job. At a general public screening in Tokyo, the audience was asked to present a promise of confidentiality. This is because it was intended to surprise viewers, and because there was a possibility that viewers would be limited if they appeared to be idols.
The production of the second season was announced at the event "ZOMBIE LAND SAGA LIVE ~ FranChouChou Minna de Orabou! ~!" held on July 27, 2019.
Casting
Murakoshi-san was very involved in the voice actors involved. He helped organize and direct the entire script and the project could not have happened without him.
Murakoshi spoke to various people, went on location scouting trips, and participated in scenario planning meetings. He then he would put all of that together. So really, he was completely focusing on writing. Once that part was finished, he did not participate anymore.
It's true, once the script is completed, there isn't much involvement in the anime's production process. As for Takenaka, thanks to Murakoshi-san being there, the project would have worked well, whether he was involved or not.
But when it comes to Zombie Land Saga, it was really a team effort and it wasn't completely driven by one or two people. It was run by a competent team that helped with the planning, otherwise they would not have been able to find someone equally good. [12]
Mamoru Miyano, who plays the role of Kotaro Tatsumi, was decided by the proposal of the sound production staff. The idol voice actors were selected by audition, except for Tae Yamada.
There were some improvised parts. However, [Tatsumi] Kotaro's scenes were almost exactly as they were written in the original script.
The voice acting was very close to the script. There were some improvised parts, like when Kotaro's mouth wasn't shown on screen, to which [voice actor] Miyano Mamoru added his personal style, but otherwise followed the script very closely. [13]
Kotaro's character is key to the whole story. He is at the center of everything, which makes him very important.
Since Kotaro has a lot of comic scenes, they needed to find someone they felt safe in. When Miyano-san's name came up during discussions, they agreed that if anyone could do it, it would be him. So they decided to ask him to play the role, if his schedule allowed.
Even as he stuck to the script, Miyano-san brought a unique tone and energy to the character. He was the closest to perfection you can get. [14]
The other members had a clear personality and were easy to imagine, so it was decided without a problem. On the other hand, the selection of the role of Sakura was difficult, and finally Kaede Hondo was named after the role of Sakura. Hondo is from Nagoya and has never used a dialect, and this was the first time this work appeared in a work that used a dialect. Looking back at the event, she enjoyed the fun and cuteness of the dialect through careful instruction of the native dialect. Maki Kawase, who plays the role of Junko, and Rika Kinugawa, who plays the role of Yugiri, also talk about the fun of the dialect during filming.
They really struggled with Yugiri's speech. It was difficult to write a convincing dialogue in the way of talking about her "Kuruwa Kotoba".
Kuruwa kotoba, or "quarter jargon", were special languages ​​used by Yoshiwara courtesans during the EDO period, partially to mask the regional accents of women, who were brought from all over Japan. These languages ​​varied between the workhouse of a courtesan.
It is incredibly difficult. It takes almost twice as long to write for a character from "oiran" (courtesan), because they have a unique way of speaking, so they have to do a lot of research. First, they wrote the lines in standard Japanese, then they would have to figure out how the real courtesans would have said it. If they couldn't do that, they had to change the dialogue to something that translated well as it really upsets the pace of the conversations as well. That took a long time.
Nor is it a regional dialect; in fact, it emerged as a means of concealing the backgrounds of the speakers. It's the only way to speak and there's not much reference material to rely on, so Yugiri's version was a bit far from perfect.
There are a lot of people who are passionate about this kind of thing, so if they did things lazily by adding "-arinsu" to the end of words, those people would get mad at the staff. So they did the best they could to research the topic and write a dialogue that sounded natural so that the experts wouldn't complain about it.
It's rarely a perfect 1-to-1 match, but the translated dialogue tries to capture the characters' personality and atmosphere as closely as possible, such as with Yugiri's accent or Saki's attitude.
Minami Tanaka, who plays the role of Lily, imagined a serious anime because of the content of the script approved in the audition, but when she read it, she felt that she had been tricked with an unexpected joke and looked at the script again, in an interview with Animate. Times Tanaka said, "Because Lily is the youngest and the height is short, I think it's okay to do it freely." They told me, "Please make it lively" and I was convinced, "Oh, I'm so free." She said that she is trying to feel like flirting with other members.
Kotono Mitsuishi, who plays the role of Tae Yamada, and Yasuhiro Takato, who plays the zombie dog Romero, were named by Sakai. Regarding the reason for hiring the two veteran voice actors, Sakai said, "Because neither Tae nor Romeo can speak, I think it is necessary to have expressive power. I thought it would be difficult unless there were veterans." It was initially concealed that Mitsuishi was the voice actor in charge of Tae, but it was first revealed in the end credits of Episode 3. In an interview with Animate Times, Mitsuishi said that she was aware of foreign zombie movies when playing and playing. She acted with the intention that it would be a humorous anime. Looking back and regarding the intention to act, Mitsuishi stated in the interview that she wanted the viewer to be aware of the Franchouchou members feeling like a zombie-themed idol group.
The director [Munehisa Sakai] has said quite often the fewer lines a character has, the more difficult it is to convey his emotions, so he needs a truly talented actor for the role. It was very difficult to find the ideal voice actor/actress for Tae.
Sakai was directing when the offer was made, but she would have accepted either way. Having met and talked to Mitsuishi-san, you find that she is highly motivated and eager to try new things. [15]
As soon as they started filming for the first half of episode 1, when Tae chases Sakura through the house, Mitsuishi-san gave a great performance despite not having any real dialogue.
The mood immediately changed, and the other actors looked really energized and motivated to do an equally good job, they might even say from my seat in the control room. He was really impressed. She managed to lead the entire team. [16]
Takato, who plays the role of Romero, said: "Of course, it makes a difference between real and ordinary Romero, but I think it is better to say Hehheh" according to the story, so it is better to do "Gaugau" so I do it with instinct and intuition. "I spoke with the director, but in the end it seems that Romero does not seem to think anything."
Various voice actors were named as the sub-character, of which Hiroyuki Yoshino, the role of Police Officer A, was decided early on. Regarding the scene where the police officer A raps in the second episode, Asami Tano, who plays Saki, said: "That scene was not written in the script at the beginning". It is probably a rap battle. He said: "That was what you did, it was improvised"
All songs are performed by Franchouchou (Kaede Hondo, Asami Tano, Risa Taneda, Maki Kawase, Rika Kinugawa and Minami Tanaka) The anime began airing on October 4, 2018 on AT-X, Tokyo MX, Sun TV, BS11, Saga TV, and TVQ were also licensed by Crunchyroll.
Music
Yasuharu Takanashi was in charge of the music for this work. The director, Munehisa Sakai, hoped that Takanashi liked Death Metal and that it was possible to balance the cute part with the rock part of the characters who live a rock life. in an interview with Animate Times. Cygames' Nobuhiro Takenaka said: "Idol activities are at the center of the story, so linking stories and songs is the easiest thing to convey. In that sense, there are more messages behind the songs."
Both "Adabana Necromancy" and "Hikari e" are performed by Franchouchou (Kaede Hondo, Asami Tano, Risa Taneda, Maki Kawase, Rika Kinugawa and Minami Tanaka). The anime began airing on October 4, 2018 on AT-X, Tokyo MX, Sun TV, BS11, Saga TV, and TVQ, was also licensed by Crunchyroll.
Broadcast History
In the promotion, the principle of secrecy for the content of the work was fully implemented. From the production announcement to the start of the mainstream, information on the story was hidden, except for the slogan "New zombie-feeling anime." The promotional video also appeared to be a true zombie horror job. At a screening for the general public in Tokyo, the audience was asked to submit a promise of confidentiality. This is because it was intended to surprise viewers, and because there was a possibility that viewers would be limited if they appeared to be idols.
The production of the second season was announced at the event "ZOMBIE LAND SAGA LIVE ~FranChouChou Minna de Orabou!~ !" held on July 27, 2019.
Reception
The following reports have been made on the impact on tourism and industry in the prefecture of Saga, which was the setting for this work.
On November 25, 2018, the "Old Main Building of the Karatsu Branch of Mitsubishi Joint Stock Company" (Karatsu City Museum of History and Folklore) was opened to the public, which is where the model of the residence of the girls, and more than 1,000 people visited the place. This facility has been closed since 2003 due to deterioration, and is open to the public every year in conjunction with the "National Public Launch of Modern Heritage." The number of visitors the previous year was 300 in two days.
Muraokaya, which makes the Japanese confectionery "Saganishiki", has launched a collaborative package version of the same product, "Zombie Land Saga". The factory is said to be fully operational with sales 1.5 times higher than initially anticipated.
The "Drive-in Tori" is based in Imari, Saga, it appeared in Episode 5 of the series and after the broadcast of the episode its numbers of visitors increased like foam
On January 14, 2019, TVQ Kyushu Broadcasting will host a special program "Zombie Land Saga Holy Land Pilgrimage Tour-We Want to Live", featuring the locations where the series was made, etc. showed up at work. I wanna go! SAGA ~ "was broadcast with Kaede Hondo, who played the role of Sakura, was in charge of the narration.
July 26, 2019: As of November 4, as a collaborative project between the city of Karatsu and JR Kyushu, Saga trains (Kiha 125 type 1 wagon) began operating on some of the Karatsu and Chikuhi lines in Saga prefecture with anime images. The original schedule was until October 31, but the service was expanded in line with the "Saga International Balloon Festa 2019".
Japanese internet users chose the 2018 anime general election annual grand prize "(respondents: 138,080), which was held at Nico Nico Douga and asked about the most interesting anime among the anime works that started airing and be distributed in 2018. Zombie Land Saga was first place with 13.33% of the votes. It also ranked first among all men and teenagers over 40 by age group. Prior to this questionnaire, Nico Nico Douga was taking a similar quiz of the anime from the fall 2018 season, for animes that began airing and being distributed from October to December 2018. Here, Zombie Land Saga obtained 16.64% of the votes and was selected as the first place. Voter Turnout By Prefecture From "Anime General Election 2018 Autumn", voter turnout in Saga Prefecture is overwhelmingly high at 53.83% of all voters.
There have been promotions such as stamp rallies, two since the anime began airing, which encouraged people to visit different areas and receive Franchouchou products. That project was a proposal from the prefectural government. They also received several requests from local companies that wanted to produce collaborative products and more. In that sense, it was well received by the people of Saga and it helped people from other places to know and love the place a little more.
Staff
Producers
Staff
Original Author
Public Relations and Hearings Division Zombie Section
Director / Sound Director
Sakai Munehisa
Composition of the series
Murakoshi Shigeru
Character Design
Fukagawa Kazumi
Props design
Mariko Kawamoto
Art director
Kazuo Ogura (first season)

Tatsuro Onishi (second season)

Art environment
Nobuto Sue, Shiori Shiwa
Color Design
Azusa Sasaki
Director of photography
Takashi Yanagida (first season)

Momoko Mifune (second season)

3D-CGI Director
Kouhei Iwasaki (first season)

Ai Kuroiwa (second season)

Editor
Masahiro Goto
music
Koji Takanashi, Funta7
Musical production
Avex Pictures
Head of producers
Asaichi Iizumi, Nobuhiro Takenaka

Manami Kabashima, Makoto Kimura

producer
Manabu Otsuka (animation)
Animation production
MAPPA
Production

Zombie Land Saga Production Committee
Sales/indicators
"Zombie Land Saga" Blu-ray sales trends (Ranked by Anime Blu-ray ranking)
Season 1
| Date | Volume 1 | Volume 2 | Volume 3 |
| --- | --- | --- | --- |
| December 17th-December 23rd, 2018 | 12,640 (3rd place) | --- | --- |
| December 24th-December 30th, 2018 | 6,985 (1st place) | --- | --- |
| December 31, 2018-January 6, 2019 | 1.848 (1st place) | --- | --- |
| January 7th-January 13th, 2019 | 801 (7th place) | --- | --- |
| January 14th-January 20th, 2019 | 593 (13th place) | --- | --- |
| January 21st-January 27th, 2019 | 311 (15th place) | --- | --- |
| January 28-February 3, 2019 | Not ranked | --- | --- |
| February 4, 2019-February 10, 2019 | Not ranked | --- | --- |
| February 11th-February 17th, 2019 | Not ranked | --- | --- |
| February 18th-February 24th, 2019 | Not ranked | 15,211 (1st place) | --- |
| February 25-March 3, 2019 | Not ranked | Not ranked | --- |
| March 4, 2019-March 10, 2019 | Not ranked | 399 (12th place) | --- |
| March 11th-March 17th, 2019 | Not ranked | 269 (14th place) | --- |
| March 18th-March 24th, 2019 | Not ranked | Not ranked | --- |
| March 25-March 31, 2019 | Not ranked | NoNot ranked | --- |
| April 1st-April 7th, 2019 | Not ranked | Not ranked | --- |
| April 8th-April 14th, 2019 | Not ranked | Not ranked | --- |
| April 15-April 21, 2019 | Not ranked | Not ranked | --- |
| April 22, 2019-April 28, 2019 | Not ranked | Not ranked | 16,924 (2nd place) |
| April 29th-May 5th, 2019 | Not ranked | Not ranked | 1.257 (3rd place) |
| May 6th-May 12th, 2019 | Not ranked | Not ranked | 727 (3rd place) |
| Cumulative | 23.178 sells | 17.500 sells | 18,908 sells |
Season 2
TBA
"Because Franchouchou No. 2 Saga is a Zombie Land Saga Revenge saga" is a radio program that is broadcast on FM Saga every Sunday from April 18 to June 27, 2021 from 10:00 PM to 10:30 PM. The person behind is Asami Tano, who plays the role of Saki Nikaido and the legendary Saga Prefectural rock star "White Ryu" radio featured on the second episode of "Revenge."
The guests
Trivia
The title of the anime, Zombie Land Saga, refers to both the saga (story) of the pop idol group consisting of zombies as well the prefecture itself.

As such, every episode has the word "Saga" included somewhere in the title.

Some very big names from the Japanese voice-acting industry are involved in this series, like Mamoru Miyano as Kotaro and Kotono Mitsuishi voicing Tae.
The Saga Prefectural Government in real life was involved with the production of the show, and saw the benefits of anime tourism as a result.
Episode 5 did this for Drive-in Tori, a real-life chicken restaurant with a real jingle that the girls perform. After the preview dropped, swaths of commenters came to the company's videos to point it out.
Franchouchou's mansion is actually based on a preserved building in Saga. When it was opened for the public on November 25, the management didn't expect to have 1000 visitors in just one day.

After the airing of the final episode of Season 1, the actual Arpino crew wrote an actual apology for structural damage after the major snowstorm.

In an interview with the head of CygamesPictures in the February 2019 issue of Megami Magazine, he said they'd been overwhelmingly pessimistic about the show's prospects before it aired, and weren't expecting it to become as popular as it did.

With that in mind, they had planned to reveal Yugiri and Tae's backstories as part of the season finale, but since they would not have fit with season one's story, they have decided against it and have instead delayed it for a future season.

After the airing of the first episode, the producers of the anime, Cygames and Avex Pictures, have gotten this reputation, presenting the anime's premise like a typical Zombie Apocalypse when it's actually a parody of the Idol Singer genre with a mix of Horror Comedy, with all of the footage suggesting a violent and gritty series coming from a five-second video Kotaro shows the girls about what would happen if they're caught. Suffice to say, it's actually worked.

Since Tae only growled during the early episodes, not saying a word, her voice actress remained a mystery during pre-air promotions, interviews, and even when the anime started airing. In the credits of the first two episodes, her actress is only credited as "????" and it wasn't until Episode 3 aired that it was finally revealed to be Kotono Mitsuishi.

When Mamoru Miyano introduces the voice actresses of the main cast in-character as Kotaro, there is a seventh slot marked only with question marks in place of Tae's voice actress. He does attempt to speak the name, but it comes off as a random mumble instead.
A group picture of the voice actresses and some staff members was posted to Twitter on October 4, 2018, but Mitsuishi's face was covered with an icon of her character's face.
The emblem of the Saga Prefecture is eerily similar to the emblem of the fictional SCP organization. Due to these similarities, some theories suggest that the Saga Prefecture government is some kind of containment organization that is aware of supernatural activity in the prefecture, and considering that the Zombie Land Saga Gaiden manga introduces supernatural creatures called Sagako, this theory could be more accurate than it seems.
Gallery
Videos
External Links
References