The Mysterious Man is a manga-only character who helps guide Kotaro in his quest to save Saga prefecture.
Appearance
He wears cloth pants and a cloth t-shirt as well, he appears to be in his 40s, wears glasses and has a short hairstyle.
Volume 1
Chapter 5
He appears for the first time in the Drive in tori and he mentions that he still does not know the power of that restaurant, Kotaro mistakes him for the president of the restaurant and tells him about his plan to save Saga using the girls, he mentions that the reason why Saga is declining is because other prefectures have more progress and because life in the city brings more opportunities to people.
After eating he invites Kotaro to go to a restaurant where he says that there is the true flavor of Saga, this restaurant is in Yobuko where they serve squid, here he mentions that when he was a child he used to visit this area with his family where visitors exceeded a million people but because of the distribution of goods and that now Fukuoka also serves squid people no longer visit Yobuko for that reason.
At the end of the chapter Kotaro discovers that he was not the president of the Drive in Tori.
In chapter 9 he is seen in the "New Jofuku Bar" mentioning to Kotaro that the bartender is not currently there, he recommends going to visit a tofu restaurant with which Kotaro manages to be inspired to make the song Atsuku Nare.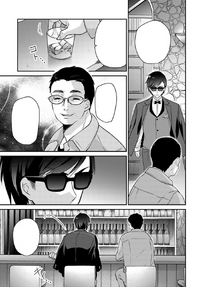 Chapter 12
In chapter 12 of the manga he meets Kotaro again in a restaurant in Tosu's stadium, he mentions that he must find the truth of Saga by completing 3 challenges, Kotaro does them, but when he thinks that it was everything he reappears in a sauna in Ureshino scaring Kotaro because he appeared out of nowhere. tells him that he still has a place called Yoshinogari, an archaeological park dating from the Yayoi period and where Chinese pottery related to Jofuku has been found, Kotaro goes and manages to find what he was missing, these experiences help him to make his own manga-film where the sentai girls defeat the monster but destroy the city of Saga in the process, scene similar to the poster of the second season of Zombie Land Saga
Personality
Trivia
The guy mentions to Kotaro that he should go find the 3 wise men of Saga, which may be a reference to the 7 wise men of Saga. "The Seven Sages of the Saga" is the name given to these seven Saga men, each of whom has made a significant contribution to the modernization of Japan. Their contributions began in the last days of the Tokugawa Shogunate and continued until the Meiji Restoration. Even today, this era shines impressively in Saga's history.
Community content is available under
CC-BY-SA
unless otherwise noted.