The Saga Sagako Busters (佐賀サガコバスターズ Saga Sagako Basutāzu) are a group of Sagako slayers who are dedicated to fighting curses in Saga.
They were first introduced in the spin-off manga, Zombie Land Saga Gaiden: The First Zombie.
Overview
They call themselves pure, beautiful and fair, fighting against the curse that currently plagues Saga, with the help of MJ Tae was able to put together a team that is willing to give their lives for the good and prosperity of Saga. Tae was the founder of the team along with MJ and after Yuko joined, the group began to thrive in an incredible way sealing Sagakos that brought Saga disgrace as they now had an exorcist helping them in their work.
Now, after Yuko was sealed in an onion, the group recruited Eikichi Hyodo to help them fight the Sagakos, since being a twin he had the same powers as his sister. Along with Tae's training, Eikichi will become more dedicated to caring for Saga's failed stars to defeat the curse and win back his sister. However, the curse grows stronger every day, spawning more and more Sagakos, so the Busters must find new ways to fight such a threat.
Origins
Ten years prior to the events of the Gaiden manga, in 1979, Tae's parents were killed by a Sagako that materialized and attacked them before they could bring prosperity to the Saga area, since that day Tae lives with a grudge against the Sagako and vows to destroy them all with her own hands. Years after the power of the onions grown on the Hyodo farm was discovered, the "love" that the land received over years of cultivation made these onions special and the Hyodo twins were given the power to seal curses with these onions and Communicate with a part of the "The Prosperity of SAGA".
Meanwhile, Tae continues to fight Sagako without this power yet, but in one of these battles she meets the young Yuko who is willing to defend her at all costs from a curse that left her very hurt. Later, Yuko would join the Busters team along with Hanako and teach them that she has the ability to seal curses on the onions from her farm. However, Yuko's power weakens over time and reaches a point where she is sealed in an onion to be revived later by Jofuku.
After the group's founding, many applicants for the job joined, including an occultist, a self-proclaimed fortune-teller, and a medium. Of which none lasted more than 3 days within the group until a mysterious girl named Anna is willing to help them despite how crazy it sounds to fight supernatural beings. In addition to adapting to Hanako's inventions, she is also very good at battle and solves problems by being very observant of small details, with her help, the group was able to defeat many Sagakos more effectively.
Timeline
Date
Events
Image
Source
Sagako Outbreaks
1960
Tae Yamada is born.
Chapter 5: Cheers! Wait, what's in that shot?!
1972~1974
Takeo Go and Sachika are born.
Chapter 6: A guy who never gives up! Good luck Sachi-ng for love!
1969~
Tae's parents find a strange-looking baby, a creature that later ends up killing them when it is born as a giant Sagako. Shortly after, Jofuku takes care of Tae, making her his adopted daughter.
Chapter 12: Reminiscence, What I Should Really Do
1979
The Saga Sagako Busters group is founded to fight the Sagakos.
Chapter 5: Cheers! Wait, what's in that shot?!
1989
The manga "Zombie Land Saga Gaiden" takes place.
Chapter 1: The Guy Who Smells Like Onions is Naked and On The Go
Yuko turns into onion - Eikichi obligatorily joins Saga Sagako Busters.
Early 1989
Eikichi's training begins - Eikichi seals his first Sagako.
Chapter 2: Delivery! Onions Straight to Your Heart!
The Busters seal a Sagako at the Maryina club.
Chapter 3: Aiming for Triple A! Shining Mirror Ball!
Mid 1989
With the help of Eikichi, Tae and MJ manage to save their last food stall.
Chapter 4: MJ shows up! The order is your squid, pretty smile!
MJ tells the truth about the curse to Eikichi and the Busters attend an alleged possession case.
Chapter 5: Cheers! Wait, what's in that shot?!
With the help of Saga Sagako Busters, Takeo manages to confess to Sachika.
Chapter 6: A guy who never gives up! Good luck Sachi-ng for love!
August 01, 1989
Detective Keiji Higashino arrives in Saga in search of a former thief on the run.
Chapter 7: What a guy!? A man from the past and the east!
Early August 1989
Anna finally rejoins the group after disappearing, Keiji seems to be planning something against Sagako.
Chapter 8: Tell me! Your true feelings!
Late August 1989
Realizing the danger that Higashino is, the Busters split up to search for and stop him. Unfortunately, Eikichi is the one who must find him and ends up beaten by Keiji.

The group is critical after Eikichi's situation after being beaten by Higashino, he has already been in his room for 2 weeks and shows no signs of recovering.

Chapter 9: Encounter! A Straight Left To His Face

Chapter 10: Groping in the Dark, Completely at a Loss, Surrounded by Enemies on All Sides

With the help of Higashino, Magatsuhi begins to recover its power and with the help of a lightning storm, it merges with a Sagako Kaiju that destroys the team's mansion. MJ is weak and old.
Chapter 11: Clash of Spears! What I Can Do for Someone Else!
The Sagako Busters team stays at the Hyodos' house after a Sagako destroys their mansion. Tae prepares for her revenge against Sagako.
Chapter 12: Reminiscence, What I Should Really Do
Late 1989
Tae dies of an unknown cause.
????
End of the Sagako Outbreaks - End of the financial bubble in Japan
Members
Allies/Partners
Jofuku - He is the one who raised Tae after his parents were killed and instructed her to destroy the Sagakos.
Takeo Go - A great high school student whom the Busters helped confess to his partner, Sachika .
Property
Base of Operations
Sagako Busters Mansion - The Sagako busters use a mansion in Karatsu as their plans headquarters, training place, warehouse, and also serves as Tae's home.
Hanako's Inventions - Of the many Hanako inventions that they have stored in the rooms of the mansion, such as the Del-height and the love potion.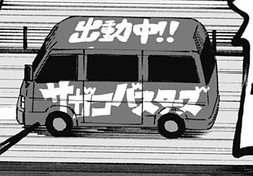 Mode of Transport
Busters' Van - The model of the truck used by the Sagako Busters is Toyota HiAce (a very similar make of truck that was driven by Kotaro). And the model of the van they drive is the fourth generation Toyota HiAce which was released in 1989 (the year Gaiden takes place) and it's a very different van compared to Kotaro's HiAce. Because Kotaro's truck is actually the 5th generation Toyota HiAce Commuter, Kotaro's truck is much more luxurious and more modern compared to 80's HiAce due to the 80's car model are much more boxy design as a futuristic and modern style than present time HiAce.
Trivia
The group and its name are a reference to the Ghost Busters.
The group's base of operations is the mansion where the Franchouchou girls currently live. As well as the van, makeup, and other items in the mansion that were used by the group when it was active.

The girls' meeting room was the meeting place for alerting of the new Sagako Monsters.
Gallery