Announcer Girl (アナウンサーガール Anaunsāgāru) is a recurring minor character in both seasons of Zombie Land Saga.
Appearance
A young looking girl with a slim build, her hair is brown with two pigtails and brown eyes. She whenever she appears she wears a pink shirt and shorts along with a red top hat.
Personality
She is someone who is excited to host public events in Saga and she is willing to do it quite energetically whenever she appears. She usually tends to narrate in real time what is happening for the present audience.
History
She makes her debut in this episode as a presenter at the Kashima Gatalympics events, in which Franchouchou participates and where Tae ends up winning, she successfully tries to make Tae speak something coherent but without success in this.
She makes a small cameo appearance at an onion festival where Ai is participating.
She returns as a moderator in a public dance contest where various groups participate, narrating the events that occur and the dance battle between Cocco and Tae.
Abilities
Natural abilities
Skilled
Speech - Being in front of large crowds, she has the ability to narrate events in real time to a large audience.
Unique abilities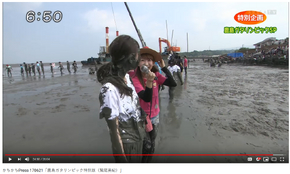 Trivia
She is based on a real host in Saga who also hosts the events of the Gatalympics in real life.
Gallery
Image Gallery